The field's understanding of immunology and virology in the context of gene therapy delivery continues to expand along with this meeting. We have added three new features to the 2022 summit bringing you more speakers and content than ever before!
NEW CONTENT: PRE-CLINICAL TRACK
Our brand new pre-clinical track is designed to provide you with everything you need to navigate your biggest non-clinical hurdles. Uncover novel in-vivo models, explore immune profiling methodologies, and better understand cellular immunity in the non-clinical setting by hearing from Spirovant, Spark Therapeutics, Indiana University, Amarna, Roche and more
NEW CONTENT: CLINICAL TRACK
With the safety and efficacy of gene therapy products under more scrutiny, it has never been more pivotal to better understand and manage clinical manifestations of immunogenicity. This track is your one stop shop to better monitor and modulate immunogenicity in the clinic, examine the effects of administration route and uncover the role of complement by hearing from Rocket Pharma, Prevail Therapeutics, Beam Therapeautics, Adverum, Ask Bio and more
NEW CONTENT: IMMUNOGENICITY AND ITS IMPLICATIONS FOR SAFETY
We are set to gather industry leaders from Selecta Bio, Sana Bio, Modalis Therapeutics, Prevail Therapeutics, Roche, Spark Therapeutics and more across panels, presentations, and workshops to dissect the realities of safety concerns associated with immunogenicity alongside strategies to measure and modulate such immune responses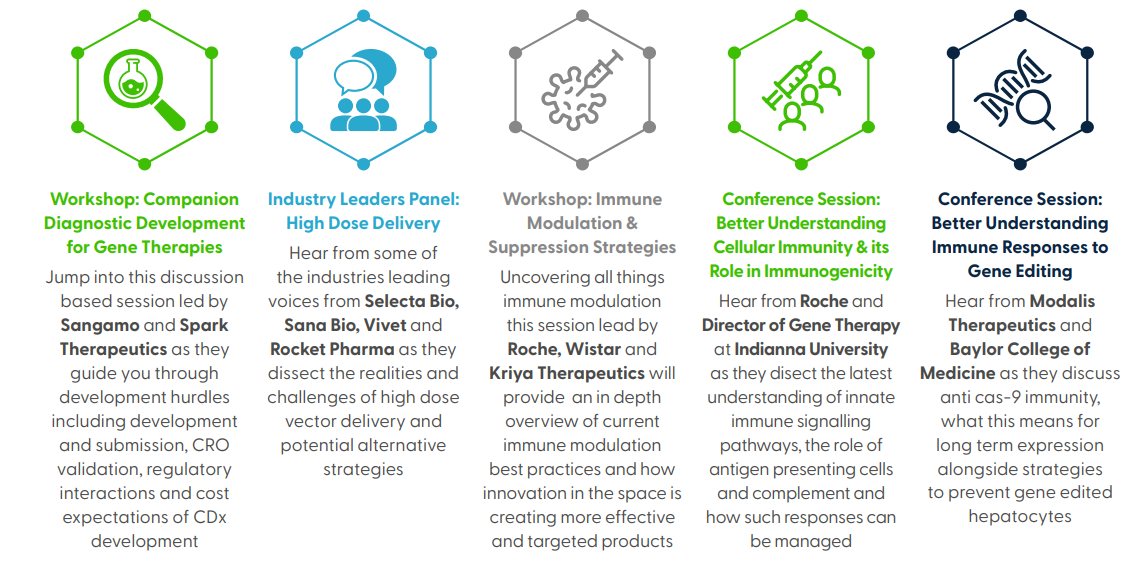 Gene Therapies are revolutionizing the therapeutic landscape for a huge number of diseases. For the field to progress however there several unique and complex challenges facing drug developers. One of the most prominent of these challenges is the immune response to gene therapy delivery.
Neutralizing antibodies and their associated immune response currently compromise both the safety and efficacy of delivering gene therapies to vast proportions of the rare disease patient population. As a result, a huge unmet medical need is created by patients unable to receive this revolutionary therapy.
By uniting industry leaders across the gene therapy space, this multi-disciplinary forum will enable you to develop more effective and safe gene therapies by; identifying and tailoring novel capsid proteins for more specific targeting; reducing AAV neutralizing antibodies, and confidently assessing immunosuppression strategies to dampen the immune response.
How Will it Help You Measure, Modulate and Predict Immunogenicity?
Built specifically for gene therapy drug developers, this is the industry's most definitive meeting, to tackle your biggest immunogenicity roadblocks and enhance your current programs to bring transformative treatments to patients more quickly and efficiently.
Join this meeting to hear 20+ case studies and clinical readouts from experts at the forefront of the gene therapy field. Join the discussion and explore methods of immunogenicity mitigation, bioanalytical assay analysis and standardization, immune response prediction, and re-dosing of patients.
Overcome roadblocks in the development and delivery of gene therapy candidates to deliver on the promise of efficacious and safe gene therapy modalities.